If you saw our Wedding Trend Watch #1, you have a good idea of some trends that we love and hope to be seeing in the near future. Plus there were SO many to choose from that we just had to make it 2 blogs! We'll continue the top trends that you can apply to your own wedding, and trends that will help set your wedding apart from the rest. Options are truly endless- which is why we are showing you the BEST trends to keep your eye out for!
Décor
Light Up Your Love – Whether it's your wedding hashtag, your new last name, or just a phrase that speaks to you, neon signs are in! They come custom made, and can even be made in your own handwriting! This sign was used in Florence and Roberto's wedding shown by Whimsical Wonderland Weddings and we love it! The best part about them is that they're stunning at a reception, but can be kept for years to come in your new home together. It'll be a little reminder of your wedding day and can still be displayed beautifully!
Written In The Stars- A celestial theme is all the rage right now, especially if you are having an outdoor wedding with a view of the night sky! This theme can be brought to life through stationary, signs, centerpieces, and cakes. A room decorated with flickering candles will give the room a romantic feeling and live out the celestial theme! We love these save the dates found on HooplaLove's etsy!
Bohemian Vibes- Here's your dose of boho inspiration! if you're more of a minimalist, this could be for you. Macrame adds a design element to your theme. By keeping the macrame in a neutral color, it doesn't add too much of a pattern or distraction for your guests. You can keep things casual, and textural in such an organic way seen on the Ruffled Blog. Use florals that match to keep the bohemian vibes going!
You Rock!- There's something about these magical rocks that will bring such a natural and unique vibe to your day. Geode's are such an earthly beauty, and you can definitely reflect this on your wedding day! To continue the look of this themed table, you can have a geode cake (look this up on Pinterest, you won't regret it!), and marble-like details. Wondering what you're going to give as your favor? Rock candy of course! You can check out this geode inspired wedding at Confetti Daydreams.
We Can See Right Through You– Acrylics are right on trend! And the greatest part about this trend, is that they can fit almost any wedding theme! You can add this to your decor by using it as the cake stand, place cards, menus, signs, even chairs. This element won't distract attention away from your wedding venue, and it adds a bit of a 21st-century flair to your day! You won't be disappointed by checking out Happy Weds wedding decor ideas.
Make A Buzz!– We are loving this trend! It's a fun take on the geometric patterns we've been seeing lately, and one that you can replicate subtly throughout the day. It doesn't have to have a bee theme necessarily, but just using the honeycomb shape will give your day a trending pattern! These larger than life backdrops will add a "wow" factor to your big day! Check out Aisle Society and Martha Stewart Weddings for more great inspo!
Geometric Gems– As you can tell, this trend can translate to any wedding! Getting married in the desert, or at the beach? You can still make this work for you! Geometric altars are gaining their popularity. Couples are straying away from traditional decor, and opting in for  modern geometric altars like these seen in Green Wedding Shoes and Style Me Pretty. They create stunning photo opportunities and will blow your guests away!
Food
Mimosas Please!- This has to be one of our favorite trends for 2018! Morning ceremonies and brunch afterwards is for the early birds! If you're looking to have a more cost effective wedding, and more relaxed than an evening wedding, brunch is the way to go. A full open bar isn't necessary for your guests, and you won't be dancing into the late hours of the night. This means you have the rest of the day to have prepare for your honeymoon, or even take wedding pictures after the wedding has commenced! Martha Stewart Weddings explains how you can plan the perfect brunch wedding!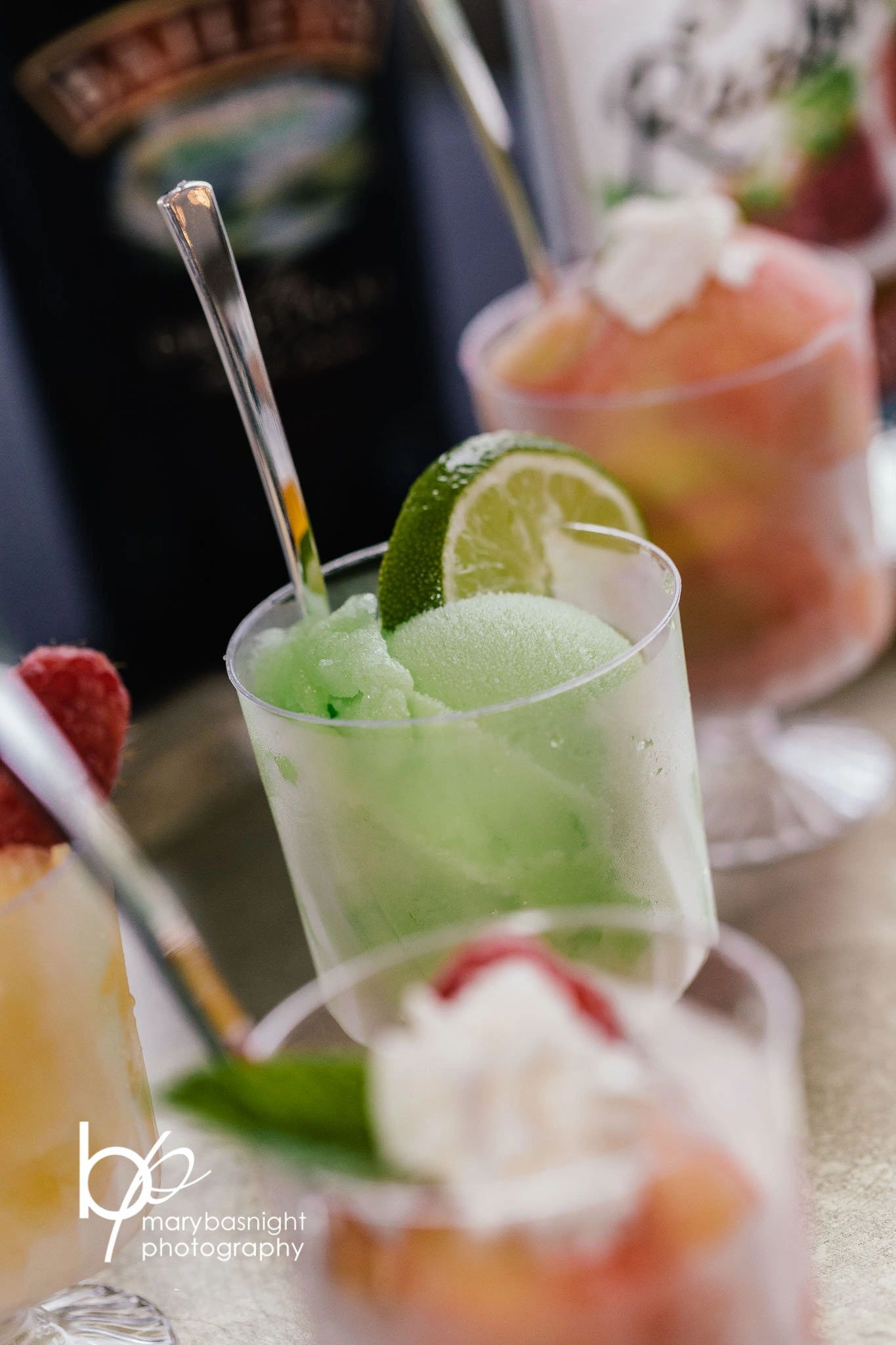 Slushtini?- That's right, slushies you can add a splash of alcohol to! Giving your guest a new and different experience is very popular right now. You're probably thinking…alcohol and slushies together? YES! Just trust us, you'll be wanting to go back for more. OBX Sunset Slush is one of our preferred vendors here at Sanderling and they are a hit! Some of their amazing flavors include Peach Bellini, Wedding Cake, and Watermelon-Tini with many other flavors to choose from. It can be a classic Italian ice served with style, or create your own signature cocktail for a wedding treat that is sure to impress!
Want to Make These Wedding Trends Happen?
Sanderling Resort is Your Place!
Nestled on the Currituck Sound just steps from peaceful waters and breathtaking views of the Atlantic Ocean, Sanderling Resort is renowned for its enchanting weddings on the Outer Banks. The resort's 13-acre sea-to-sound picturesque location lends itself to being the perfect southern wedding destination. Recently, Sanderling Resort was honored as one of The Knot's "Best of Weddings 2017" list and is a Style Me Pretty Little Black Book Member. The resort continues to wow couples and their wedding attendees year after year.